Yields: Up to 24% APY on Stablecoins, 20-50% APY on ETH and BTC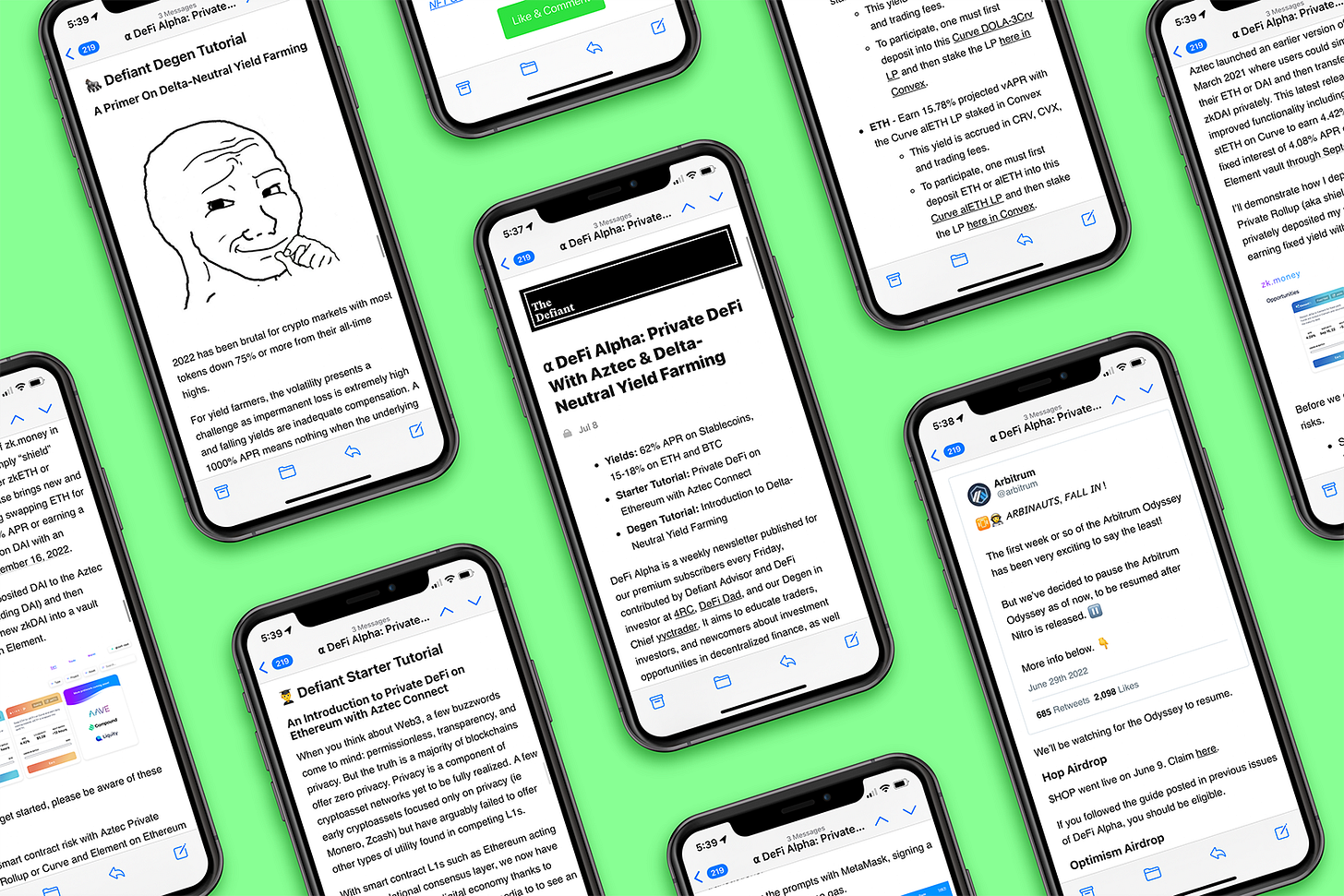 DeFi Alpha is a weekly newsletter published for our premium subscribers every Friday, contributed by Defiant Advisor and DeFi investor at 4RC, DeFi Dad, and our Degen in Chief yyctrader. It aims to educate traders, investors, and newcomers about investment opportunities in decentralized finance, as well as provide primers and guides about its emerging platforms.

Motivation
Two years ago, DeFi investors could easily name every yield farming opportunity without much effort. It was a simpler time, when only a handful of teams had launched with any liquidity to trade, lend, borrow, provide liquidity, or even demonstrate new primitives such as no-loss savings by PoolTogether.
But times have changed! Before the current bear market took hold, DeFi liquidity had grown to hundreds of billions of dollars across Ethereum with new burgeoning DeFi economies taking shape on EVM-compatible chains such as Polygon and Avalanche and non-EVM chains such as Cosmos and Solana. Any given day, a new DeFi or NFT project is launched.
So, after writing and creating countless DeFi guides and tutorials since 2019, we at The Defiant agreed it's time we publish a more detailed weekly guide on all you need to know to keep up with new opportunities.
This is DeFi Alpha by The Defiant.
Any information covered in DeFi Alpha should not form the basis for making investment decisions, nor be construed as a recommendation or advice to engage in investment transactions. Any mention of a token or protocol should not be considered a recommendation or endorsement.
---
🙌 Together with:
DeFi Saver is the most comprehensive dashboard for Liquity protocol with unique automated liquidation protection features. Now, with full support for the newly launched Chicken Bonds bonding protocol as well.

---
📈 Yield Alpha
Each week we will provide options to earn yield on ETH, WBTC, stablecoins, and other major tokens.
Please be aware we intentionally do not report the highest yield rates because often, those yields are less sustainable and in some instances, artificially elevated due to less participation
📱DeFi Alpha Call
The DeFi Alpha call is held every Monday at 2pm ET in Discord.
In case you missed it, check out the recording of this week's call.
https://thedefiant.io/defi-alpha-call-26-recap
---
Sponsored Post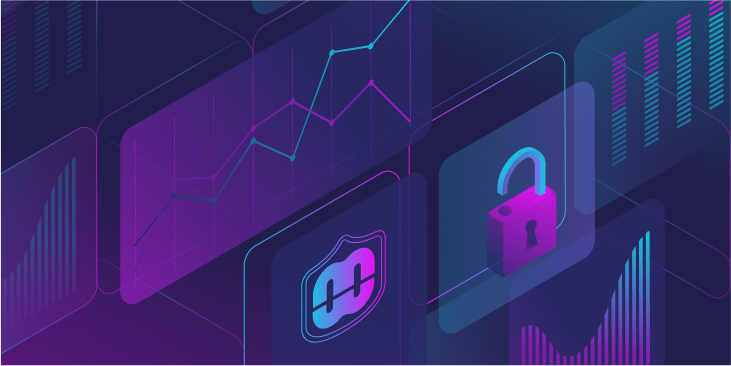 Unlocking the power of your DeFi portfolio
We all know that managing a DeFi portfolio can be a significant challenge.
Especially during times of market turbulence, keeping your portfolio efficiently balanced can turn into a full-time job. Crypto is a 24/7 market that requires 24/7 monitoring of positions in order to be a competitive investor in the market.
Until now, the tooling needed to monitor your portfolio and ensure that your positions are allocated efficiently has been kept private. Mainly being used by institutional investors who can sit back and relax while their portfolios are maintained for them.
Mero is bringing professional DeFi tooling and automated liquidity management to every DeFi user. Through Mero, users can easily automate their liquidity to react to market conditions and ensure that it is always allocated where it should be.
The Defiant readers have the opportunity to become an early LP on Mero before its suite of portfolio automation products is released. Start earning yield using this link.
---
👨‍🎓 Starter Tutorial
Increase Your ETH Staking Yield by Arbitraging the Discount on Liquid Staking Derivatives
Given the devastating state of crypto markets with this week's FTX meltdown, we wanted to cover a less risky beginner lesson in DeFi.
With the increased risk of insolvency among crypto borrowers and the contagion that may spread to different parts of the crypto markets, it's a very appropriate time to think adversarially about how to avoid any DeFi that might suffer systemically from the markets unwinding. One such yield with less counterparty risk is holding an ETH liquid staking derivative.
While the best way to stake ETH is to run your own validator, LSDs allow anyone to earn ETH staking yield by simply holding a token, while contributing to the Proof-of-Stake consensus on Ethereum.
LSDs do not require the minimum 32 ETH to run a validator, which means anyone can stake ETH with as little as they want. This is very aligned with one of the core tenets of DeFi to be easily accessible to any wallet regardless of how little value they hold.
Second, the tokenization of staked ETH gives stakers more economic freedom to use the value of their staked ETH in other DeFi, such as liquidity provisions on Curve or as collateral to borrow against on Aave or Euler.
There are a number of risks to consider with liquid staked ETH. First, whether you hold an LSD or run your own ETH validator, you're exposed to technical risk in the Beacon Chain, which could unknowingly have an error in its code prior to withdrawals being enabled in the next 6-9 months in the Beacon Chain. However, that risk is extraordinarily low at this point in the development of Ethereum 2.0.
A second major consideration is price risk–meaning the price of a staked derivative of ETH could go up or down depending on how the market values it. Leading up to The Merge in September, the discount for stETH by Lido rapidly closed back to 1:1 with ETH, compared to a 6-7% discount during the 3AC meltdown in June. Whether you hold an LSD or run your own validator, there's also risk of slashing, but that risk is minimized in the recruitment of reliable entities to run validators for LSD protocols like Lido, Rocketpool, Stakewise, Ankr, and soon Stader.
Lastly, it's important to understand whether one is holding an LSD by a DAO-governed protocol where the protocol is designed to hold your ETH while running validators in return for a percentage of yield, vs a centralized entity like Coinbase, who provides an LSD called cbETH so that customers can earn with staked ETH, but where there is real counterparty risk in trusting Coinbase to return your ETH.
Today, I'll show how I might choose to buy discounted liquid staked ETH, and earn more ETH based on i) the staking yield and ii) the price of the LSD increasing to be equal to 1 ETH once withdrawals are enabled for staked ETH in the Beacon Chain.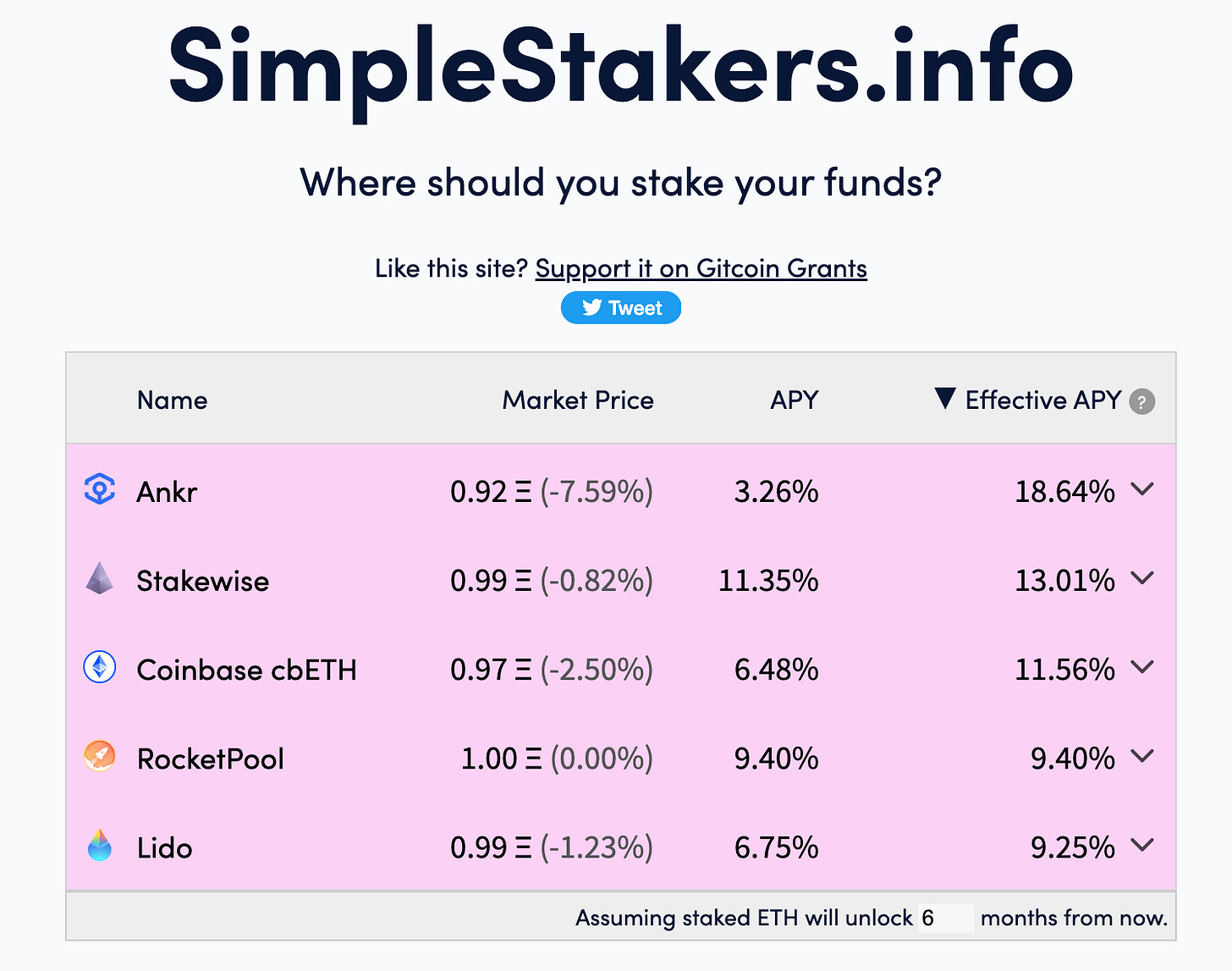 Before we get started, please be aware of these risks.
Smart contract risk in any LSD governed by a protocol, including cbETH by Coinbase
Front-end spoof attack on any frontend website for minting an LSD or buying it off the market for a discount
Exploits in the economic design of any protocol
Slashing risk
Staked ETH price risk
DAO key management risk
Beacon Chain technical risk
Beacon Chain adoption risk
Step 1: First, I go to SimpleStakers.info which is a helpful free website tracking the market price and estimated staking yield of different ETH liquid staking derivatives.
Even more helpful, they've calculated the total yield earned based on the LSD discount + the annualized staking yield rate, with whatever timeframe you want to assume must pass before staked ETH withdrawals are enabled on the Beacon Chain (what we'll assume will close the price gap between the LSD and ETH being 1:1).
Step 2: If I adjust SimpleStakers.info so that "staked ETH will unlock in 6 months," the 1% discount on Lido's stETH, which is trading at ~0.99 ETH as of this writing, with a reported staking yield of 6.75% APY, will net out 9.25% APY.
Just for this example, I'm going to opt for stETH by Lido because I prefer to not have counterparty risk exposed to a centralized entity like Coinbase (my personal preference), and I like the ability to borrow against stETH on Aave or Euler.
Although rETH by Rocketpool has a higher estimated yield of 9.4% APY and promises comparably less risk of fewer entities holding more power in their DAO, I cannot borrow against rETH on Aave yet.
So I go to a DEX aggregator like CoWSwap or 1inch, connect my Ethereum wallet, and specify buying stETH by Lido with my ETH (if CoWSwap, it'll require WETH).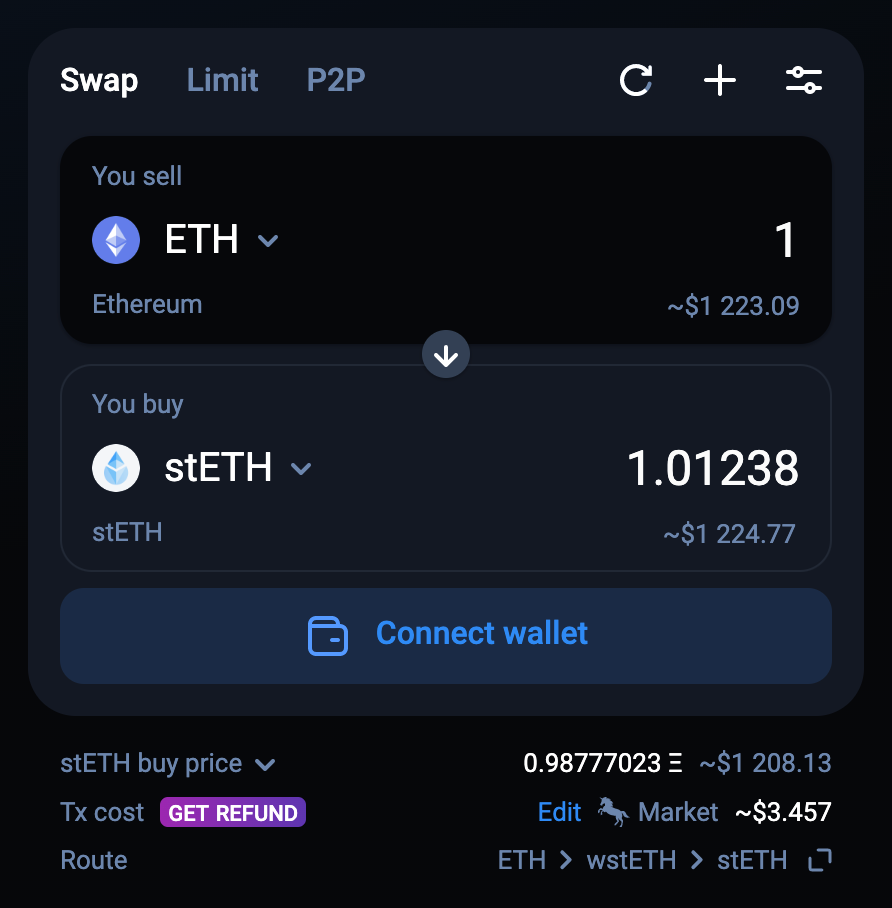 ---
🦍Degen Tutorial
Using the Shardeum Testnet for a Potential Airdrop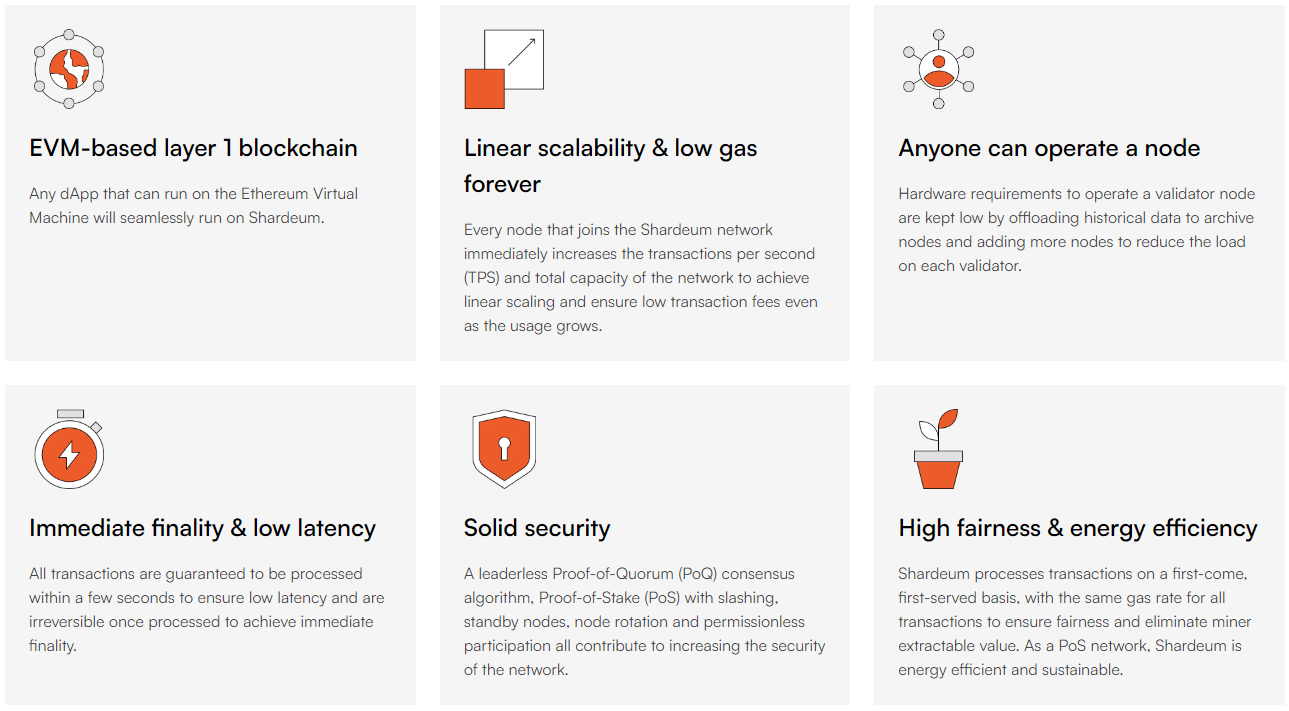 Shardeum is an upcoming Layer 1 blockchain that raised $18M in seed funding last month. It was co-founded by Nischal Shetty, a co-founder of WazirX, the largest crypto exchange in India.
It's EVM-compatible, meaning smart contracts that work on Ethereum can be easily ported over, and promises 'infinite scaling' through the use of sharding.
In this tutorial, we're going to test some dapps on Shardeum's Liberty alphanet, which could make us eligible for a potential SHM airdrop.
Let's get started.
Step 1: Add the Shardeum Liberty 1.6 network to Metamask
Settings > Network > Add a Network > Add a Network Manually
Network Name – Shardeum Liberty 1.6
New RPC URL – https://liberty10.shardeum.org/
Chain ID – 8080
Currency symbol – SHM
Block Explorer URL – https://explorer-liberty10.shardeum.org/
Step 2: Obtain Test SHM Tokens
There are two ways to get test tokens:
1 – Official faucet – https://faucet.liberty10.shardeum.org/
Follow the instructions to receive 100 SHM.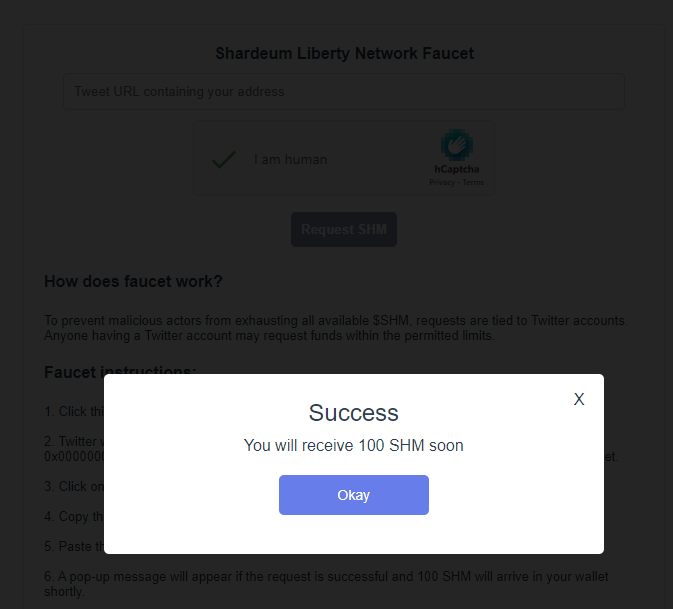 2 – Discord faucet – Join the Shardeum Discord and use the bot in the #faucet-1-6 channel.

Step 3: Test some apps
Name Service – https://dotshm.me/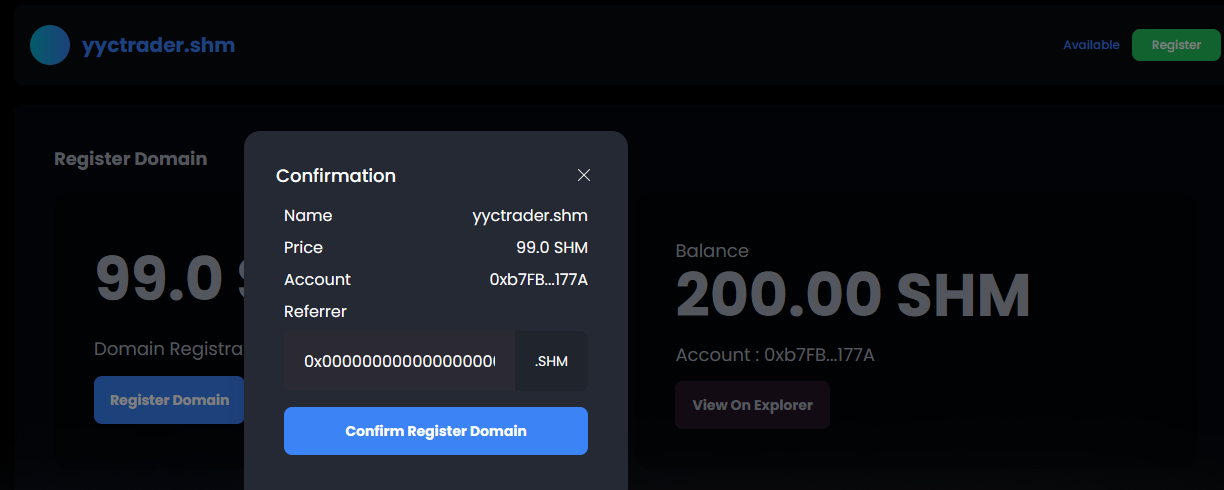 DEXs
Swapped Finance – https://www.swapped.finance/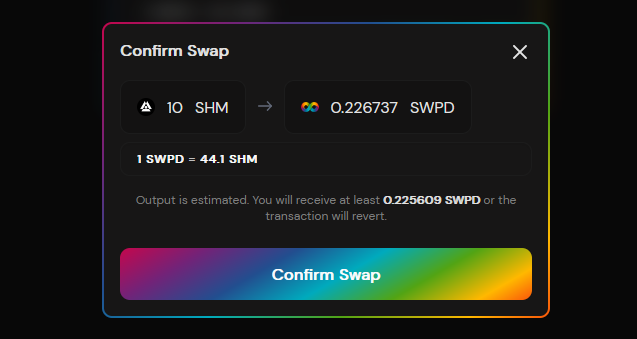 ShardeumSwap – https://dex.shardeumswap.finance/
Swapped Finance – https://www.swapped.finance/
Globalswap – https://globalswap.netlify.app/
NFTs
Create an NFT on Spiro – https://www.spriyo.xyz

DexPad – Create your own testnet token at https://dexpad.io/token-factory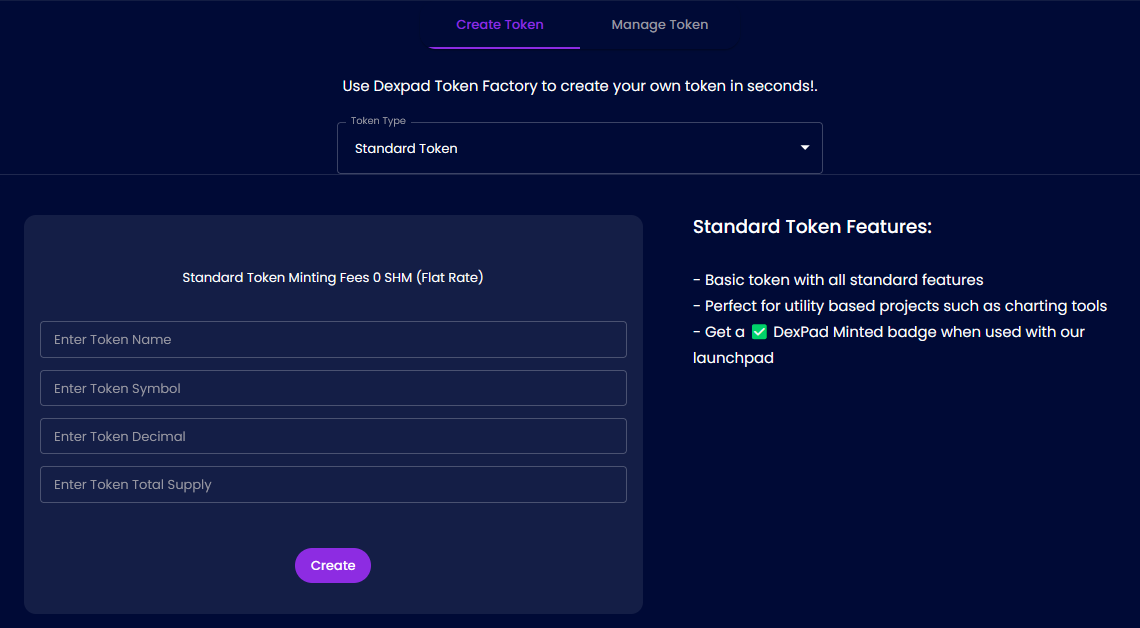 ---
🪂 Airdrop Alpha
In each DeFi Alpha guide, we update a list of DeFi protocols that have yet to announce and/or launch a token.
Arbitrum Odyssey
Layer-2 rollup Arbitrum kicked off a months-long program on June 21.
Participants will be able to claim NFTs based on completing various tasks.
Week 1 was Bridge Week and we walked you through it in a previous issue of DeFi Alpha.
In a previous Degen Tutorial, we covered a series of on-chain quests.
We'll be watching for the Odyssey to resume, now that Nitro is live.
Optimism Airdrop
Congratulations if you followed our guide betting on a hunch that Optimism would release a token!
In a previous DeFi Alpha, we covered a series of on-chain quests that could make you eligible for the next round of $OP airdrops.
$OP is Live! Claim guide here.
---
The information contained in this newsletter is not intended as, and shall not be understood or construed as, financial advice. The authors are not financial advisors and the information contained here is not a substitute for financial advice from a professional who is aware of the facts and circumstances of your individual situation. We have done our best to ensure that the information provided is accurate but neither The Defiant nor any of its contributors shall be held liable or responsible for any errors or omissions or for any damage readers may suffer as a result of failing to seek financial advice from a professional.