Yields: Up to 21% APY on Stablecoins, 20-52% APY on ETH and BTC
DeFi Alpha is a weekly newsletter published for our premium subscribers every Friday, contributed by Defiant Advisor and DeFi investor at 4RC, DeFi Dad, and our Degen in Chief yyctrader. It aims to educate traders, investors, and newcomers about investment opportunities in decentralized finance, as well as provide primers and guides about its emerging platforms.

Motivation
Two years ago, DeFi investors could easily name every yield farming opportunity without much effort. It was a simpler time, when only a handful of teams had launched with any liquidity to trade, lend, borrow, provide liquidity, or even demonstrate new primitives such as no-loss savings by PoolTogether.
But times have changed! Before the current bear market took hold, DeFi liquidity had grown to hundreds of billions of dollars across Ethereum with new burgeoning DeFi economies taking shape on EVM-compatible chains such as Polygon and Avalanche and non-EVM chains such as Cosmos and Solana. Any given day, a new DeFi or NFT project is launched.
So, after writing and creating countless DeFi guides and tutorials since 2019, we at The Defiant agreed it's time we publish a more detailed weekly guide on all you need to know to keep up with new opportunities.
This is DeFi Alpha by The Defiant.
Any information covered in DeFi Alpha should not form the basis for making investment decisions, nor be construed as a recommendation or advice to engage in investment transactions. Any mention of a token or protocol should not be considered a recommendation or endorsement.
📱DeFi Alpha Call
The DeFi Alpha call is held every Monday at 2pm ET in Discord.
In case you missed it, check out the recording of this week's call.
📈 Yield Alpha
Each week we will provide options to earn yield on ETH, WBTC, stablecoins, and other major tokens.
ETH: 52% APR with wstETH/ETH Elastic LP staked in KyberSwap AMM on Optimism

This yield is accrued in 31% APR in trading fees in the LP + 21% APR in reward tokens (KNC + LDO).
To participate, one must Deposit into the wstETH/ETH Elastic LP here.
Then, one must stake/deposit the LP under the Farming Contract in the Earn tab -> Farms for Optimism.

BTC: 20.18% projected vAPR with the Curve pBTC+sbtcCrv LP staked in Convex

This yield is accrued in CRV, CVX, and trading fees.
To participate, one must first deposit pBTC, renBTC, sBTC and/or WBTC into this Curve factory pool and then stake the LP here in Convex.

AVAX: 7.8% APR lending AVAX to the sAVAX/AVAX pool on Platypus via Vector

This yield is issued in VTX, PTP, QI, and AVAX.
To participate, one must deposit into the AVAX Stake option here on Vector.

SOL: 9% APY staking SOL with stSOL by Lido

This is backed only by Solana staking yield.
To participate, one must mint stSOL by depositing SOL here on Lidoor one can trade on a Solana DEX.
CAUTION: Given the fallout from FTX with some Solana pegged tokens trading at a discount, this is a reminder to be extra cautious given systemic risk in Solana.

MATIC: 17.2% APY with 50/50 MaticX-WMATIC LP on MeshSwap

The yield is backed by validator rewards using the MaticX liquid staking derivative + MeshSwap trading fees + MESH rewards + SD rewards.
To participate on Polygon, I use the Stader MaticX dApp to mint MaticX.
Then, I deposit into the MaticX-WMATIC pool on MeshSwap and stake the LP.

ATOM: 21% APR staking ATOM with Keplr Wallet on Cosmos Hub

The yield earned is issued in ATOM.
To participate, one must set up a Keplr Wallet, go to the Cosmos Hub validators on Keplr Dashboard, rank by APR, choose a validator, and click Delegate.
Then, I specify how many ATOMs and follow the prompts to Delegate.

FTM: 4.7% APY staking sFTMx liquid staking derivative by Stader

The yield is issued in FTM rewards, as sFTMX is earning FTM via validator rewards to support Fantom's PoS network.
To participate, one must deposit FTM to receive sFTMX here on Stader.

HBAR: 9.6% APY staking with HBARX liquid staking derivative by Stader

The yield is issued in HBAR rewards, as HBARX is earning validator rewards.
To participate, one must deposit HBAR to receive HBARX here on Stader.

Stablecoins (USD): 21.5% vAPR with the Curve DOLA+FRAXBP LP in Convex
Sponsored Post
Leveraged yield farming – Why most users fail
It comes as no surprise that the majority of the highest yields in DeFi come from utilizing leverage or debt. What is surprising however is that many of these high yields have displayed an astonishingly low rate of alpha decay over the past year. Where normally high yields decline over time as more participants enter the position, leveraged yield farming strategies oftentimes maintain their rate of return. Why is that?

Operating a leveraged yield farming strategy requires that users know:
Which borrowing/lending protocol to use
Which asset to deposit as collateral
Which asset to borrow
How much to borrow
Which risk parameters to choose for your loan
Where to deploy your borrowed funds
Furthermore, leveraged strategies require active monitoring and management. A healthy level of collateral must always be maintained in order to avoid liquidation. With so many barriers to entry it's no wonder that most users don't utilize leveraged yield farming. That is, until now.
Arkitect is enabling any user to create their own leveraged yield farming strategy all within a few clicks. Each strategy is autonomously maintained and users can deposit funds into pre-built strategies or create their own with custom parameters.

The team behind Arkitect has been building in stealth and is giving DeFi Alpha readers the first ever glimpse into the protocol. Using this exclusive Discord link, DeFi Alpha readers can whitelist their address to be first to get access to the Arkitect protocol.
🎓 Starter Tutorial
How to Lend with Banker Joe by Trader Joe
During these uncertain times in crypto, decentralized money markets for lending and borrowing remain a relatively less risky option compared to centralized crypto banks.
Banker Joe is a money market with the ability to lend or borrow against a list of approved assets, and a part of the 4th largest DeFi protocol on Avalanche, Trader Joe.
Like Aave or Compound, you can lend your tokens to Banker Joe to earn lending interest with no exposure to IL. For borrowers using tokens as collateral, one can take on leverage by borrowing another token.
Today, I'll show how I can lend with stablecoins and/or volatile assets that I am already long with Banker Joe by Trader Joe on Avalanche.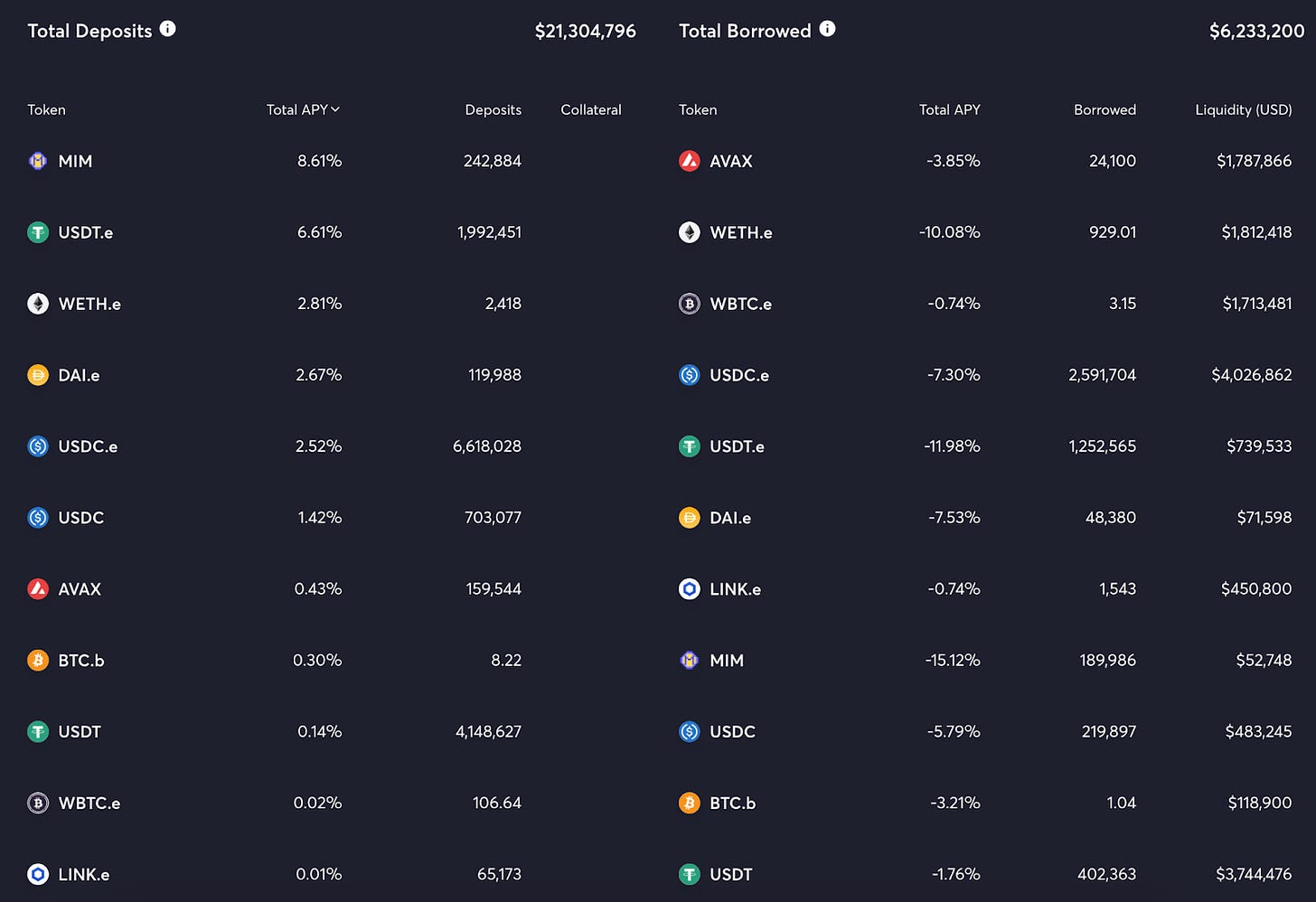 Before we get started, please be aware of these risks.
Smart contract risk in Trader Joe / Banker Joe
Front-end spoof attack on the Trader Joe website
Exploits in economic design of any protocol
Pegged assets like stablecoins can depeg or trade a large discount
A liquidity crisis can arise if all of a supplied token are borrowed
Systemic risk in DeFi composability given the use of interconnected money legos with shared liquidity
Step 1: First, I go here to the Lend tab under Trader Joe's dApp and connect my Avalanche wallet (ie MetaMask).
Step 2: Depending on whether I hold stablecoins like USDT.e or other volatile assets like WETH.e, I can then opt to deposit/supply this token if the lending interest is high enough to warrant lending.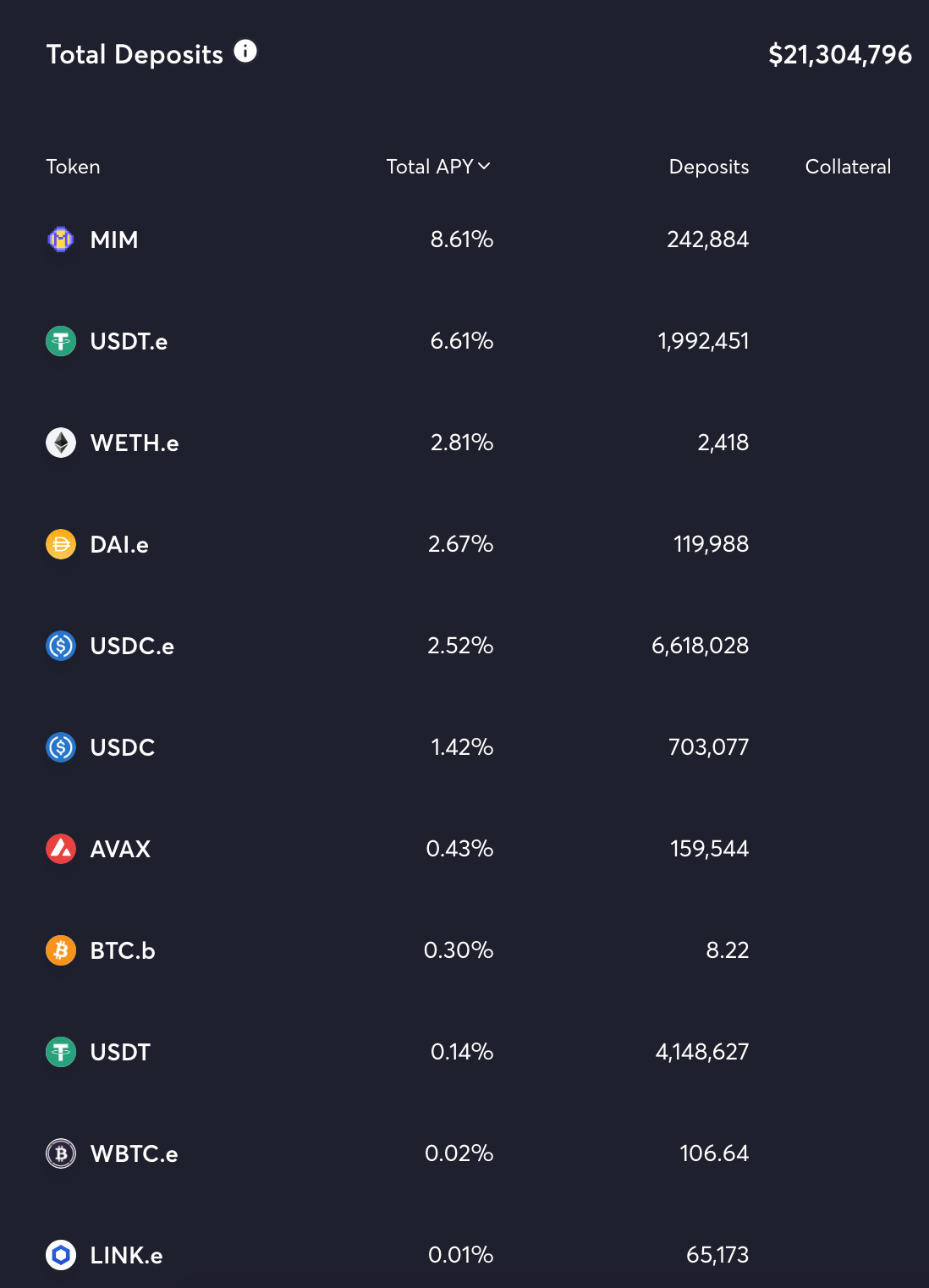 Step 3: Let's assume I want to earn with USDT.e and I click on the USDT.e option, specify how much to deposit, and click the prompts to Approve and Deposit USDT.e (2 transactions).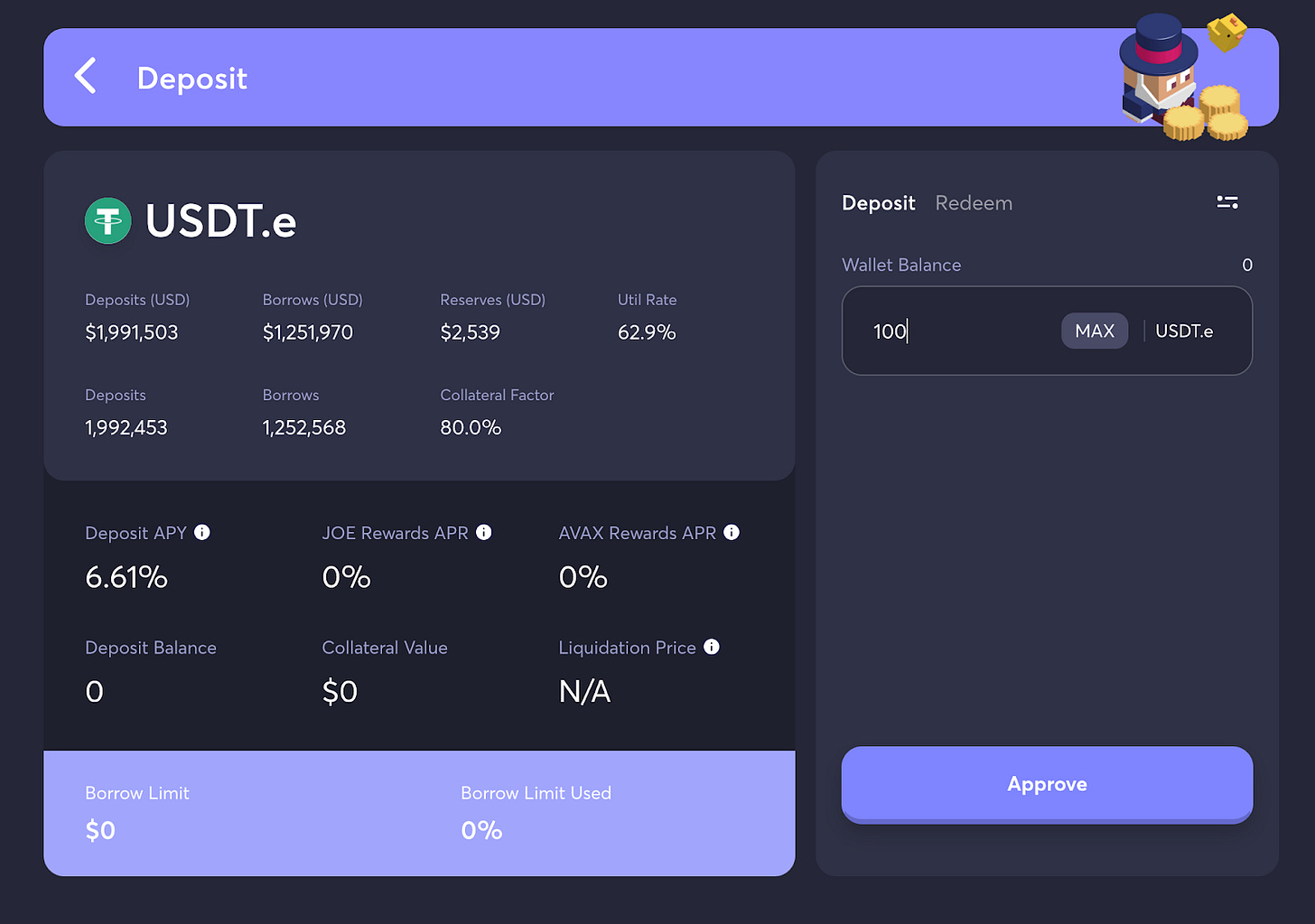 🦍Degen Tutorial
Using Delegate Cash To Keep Your Valuable NFTs Secure

As NFTs mature, the scammers that prey on the space are becoming more sophisticated than ever. Attracting holders of pricey NFTs with free airdrops that connect to malicious websites is very common.
We've seen multiple instances of users losing their prized NFTs by interacting with malicious contracts that promise a free airdrop or NFT mint, but trick you into approving away your NFTs instead. Just last month, seven Bored Apes worth $700K were stolen.
Delegate Cash is tool created by developer 0xfoobar that allows you to 'delegate' ownership of your NFTs to a throwaway wallet that you can then use to claim airdrops or prove your ownership.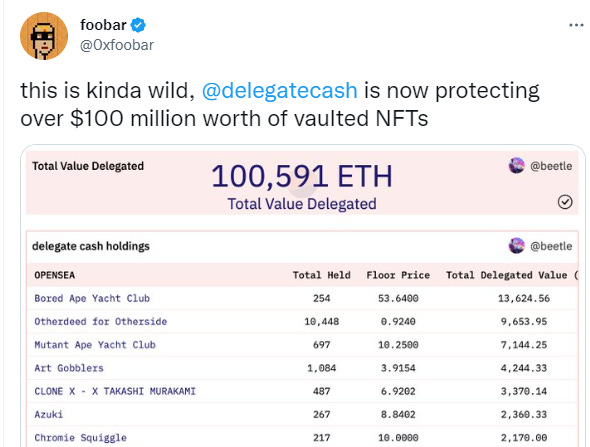 Note that project you're trying to interact with must support the tool.
As always, review the documentation before connecting your wallet.
Step 1: Connect the wallet holding the NFT you wish to delegate.
Step 2: Enter the wallet address you wish to delegate to and click 'Submit Delegation.'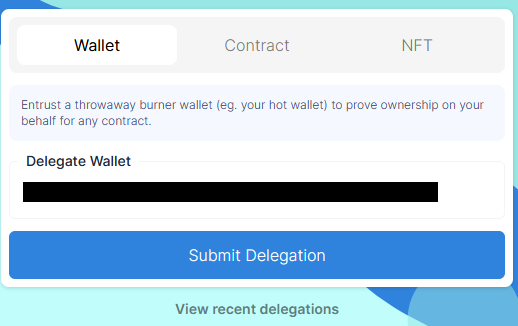 This will delegate the entire contents of your wallet.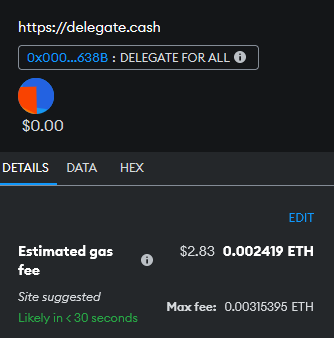 You also have the option to delegate a specific NFT or token contract using the 'Contract' and 'NFT' tabs.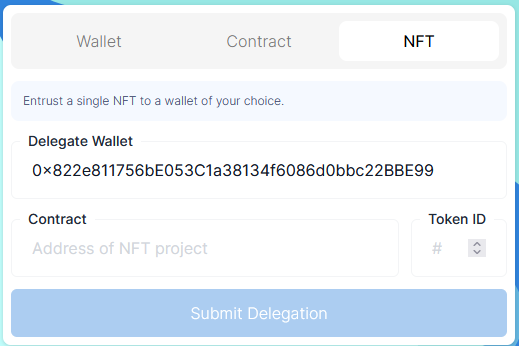 🪂 Airdrop Alpha
In each DeFi Alpha guide, we update a list of DeFi protocols that have yet to announce and/or launch a token.
Arbitrum Odyssey
Layer-2 rollup Arbitrum kicked off a months-long program on June 21.
Participants will be able to claim NFTs based on completing various tasks.
Week 1 was Bridge Week and we walked you through it in a previous issue of DeFi Alpha.
In a previous Degen Tutorial, we covered a series of on-chain quests.
We'll be watching for the Odyssey to resume, now that Nitro is live.
Optimism Airdrop
Congratulations if you followed our guide betting on a hunch that Optimism would release a token!
In a previous DeFi Alpha, we covered a series of on-chain quests that could make you eligible for the next round of $OP airdrops.
$OP is Live! Claim guide here.
---
The information contained in this newsletter is not intended as, and shall not be understood or construed as, financial advice. The authors are not financial advisors and the information contained here is not a substitute for financial advice from a professional who is aware of the facts and circumstances of your individual situation. We have done our best to ensure that the information provided is accurate but neither The Defiant nor any of its contributors shall be held liable or responsible for any errors or omissions or for any damage readers may suffer as a result of failing to seek financial advice from a professional.